Thanks Andy Buddin
My chairs now look amazing.
Another fab addition to my new kitchen. Very plain and boring chairs updated with vintage tea towels by Andy. The result is fantastic. These are now fabulous statement pieces that add a pop of colour to our kitchen. Would thoroughly recommend.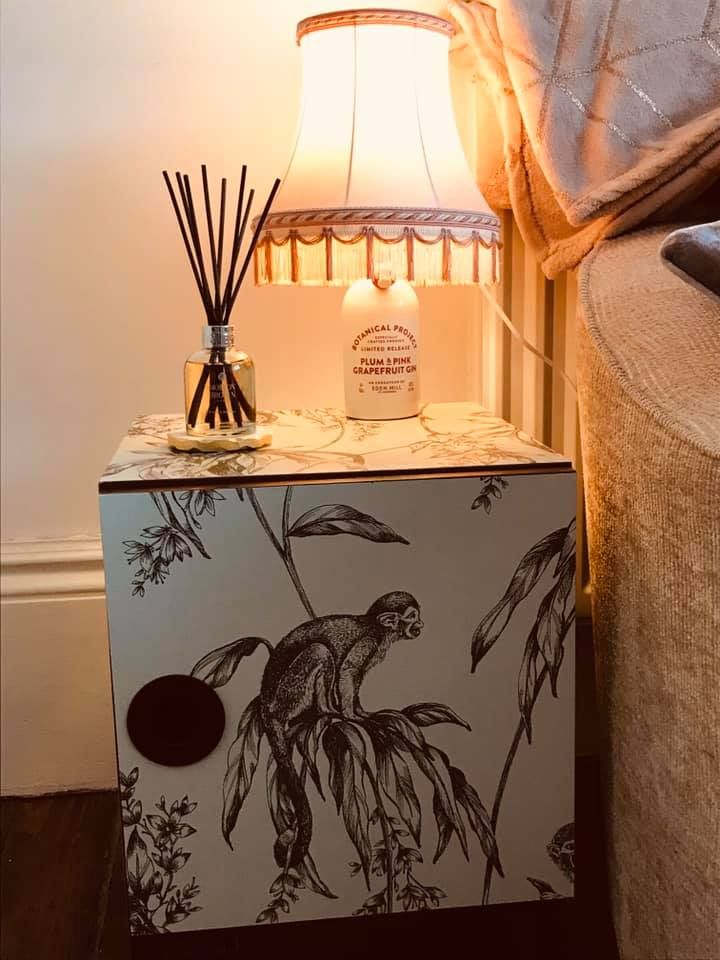 I purchased another couple of fabulous pieces today for my dining room. I'm so happy with them and the quality of the product. I love that each piece is unique and reflects your own individuality. I fully support the ethos of sustainability and protecting our environment. Shop local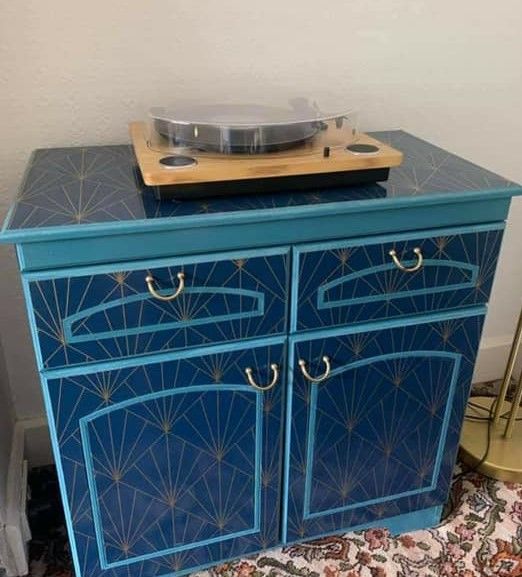 Service, communication and final product were all outstanding. Would definitely look for another bespoke piece in the future. I adore my new piece of furniture, thank you!
I had been looking for a room-divider for ages and simply couldn't find anything that was not either overpriced or underwhelming in design. Step in AndyMan UpCycling! Although the item was not in the shop and was not complete, Andy knew the dimensions and was able to give me a quote. As soon as he was able , Andy sent me pictures of material that he thought would suit. A few weeks later my beautiful bespoke room-divider arrived, beautifully made with high-quality material and gorgeous golden hinges. I absolutely love it!
Andy has upcycled 2 cabinets for me and I am over the moon with what he has done they are absolutely unique. He is now doing the same with a dining table and a nest of tables. Highly recommended if anyone is thinking of having this done.
My son had a dark brown linen chest as his toy box for years. It was functional and that's about all you could say about it. While working with Andy I mentioned that my son (who is 8 going on 30) had told me that the chest was so uncool! He showed me some of the superhero things he has done and said he would be willing to do some for this box.
Honestly the results were beyond anything we could have imagined. It is beautiful! It is perfect. It is a great mix of child friendly but not something I can see him growing out of. The box is painted blue but covered with superhero collages, inside has a space theme.
There is such attention to detail that now nearly a month later we are still finding new and interesting bits we hadn't noticed before.
Andy is an artist and as a mum I could not have asked for more or better, I have gained a few brownie points.
Honestly I would recommend Andy to anyone, an outstanding friend and a wonderful upcycler!
Victoria Joule Scarisbrick
7 January
What do you buy a 15 year old obsessed with sport and his Xbox - one of the AndyMan UpCycling heads of course! It's a fab product (at a great price) and we had ours customised with his favourite Marvel characters. When he opened up his present he said - "Now, that's cool!" - the only downside is that it's a bit more tricky to wrap than your average present but worth it as these Heads are one of a kind. The customer service and experience were brilliant too, Andy checked in with us to make sure the design was going in the right direction at a couple of stages as it was specifically made to order. If you are stuck for something a bit different for a teenager or man cave then I think you can't go wrong with one of these striking Head Stands.
. Here's how "Cool" Head Stands Are.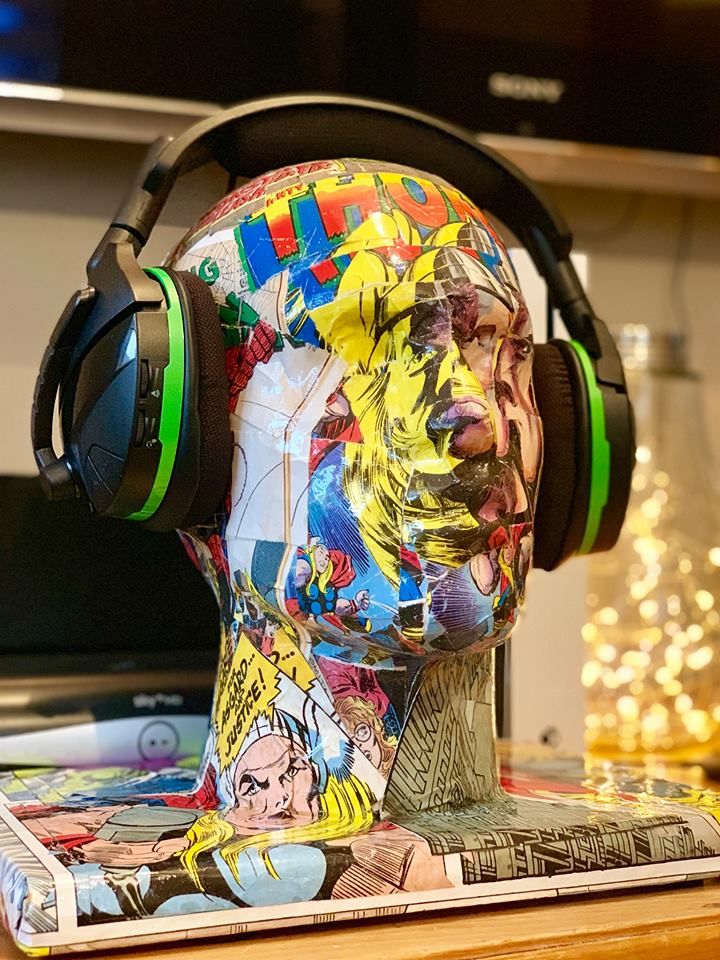 This is my second lot of items from Andy, I asked him to make me a table and another two chairs that were similar to my first lot of 4 chairs. I said that I was in no rush for these and that when he found the correct ones to let me know and he did within 2 months of asking, even though I said to him as long as I had them by Christmas I'd have been happy.
I love them all so much and I'm so happy with how they look in my dining room. Everyone that has seen them asks who did them or where I got them from. I couldn't recommend Andy enough and his wife Lynne. They're such a lovely couple that does far too much for people without asking.
23 May 2019
Andy is a lovely, talented man. I bought a beautiful sewing box from him. He had very cleverly turned a tired piece of furniture into something up to date and beautiful. I was so impressed with his work that I asked him if he could recover our dining room chairs. He did an amazing job on them. I wouldn't hesitate to recommend Andy's work to anyone. It's a 5 star rating from me. Thank you Andy!!!!
I first met this lovely couple 2 days before my wedding when I happened to be walking out of Wilkinson's in seaham and Alice and wonderland picture frame caught my eye. I bought the picture frame and we got talking to them be showed some awesome Alice and wonderland chairs. I had already decided I needed them even if I didn't have a place for them in our home. I went home to my partner and showed him them his reply was we don't need anymore chairs just leave them.
Without his acceptance of the chairs I bought them, knowing he'd come round eventually. So after contacting the couple late on that night I paid a deposit to secure them until after the wedding. They then delivered them to my door where I paid the rest, and then my partner fell in love with them too.
I'd highly recommend this lovely couple as their work is amazing and they're so lovely, helpful and understanding. The quality of their work is superb too.
Thank you again for my awesome Alice in wonderland chairs, Alice in wonderland picture frame and my lucky horseshoe for the wedding.
I'm over the moon pleased I went to tall ships or I would never have known what great things you do
Thanks
I saw some refurbished chairs andy had done and thought they were brilliant so I ordered a chair when collecting and seeing the finished product i could not have been happier I absolutely love it I would rocomed Andy to anyone Andy and Lynn are not only extremely talented in what he dose but he is a beautiful soul and lovley person if I could rate it 10 star I would they also do a fantastic range of cushions pictures in frames pocket watches which I have also purchased and am extremely happy with x
Andy refurbished my mum's old chair, from being unable to sit on it and a bit tired looking . It has been totally renovated. Excellent customer service. Friendly and quick . Would definitely recommend him to do a great job on anything from refurbishing you're old furniture to making weird and wacky new furniture out of old furniture that others may have thrown away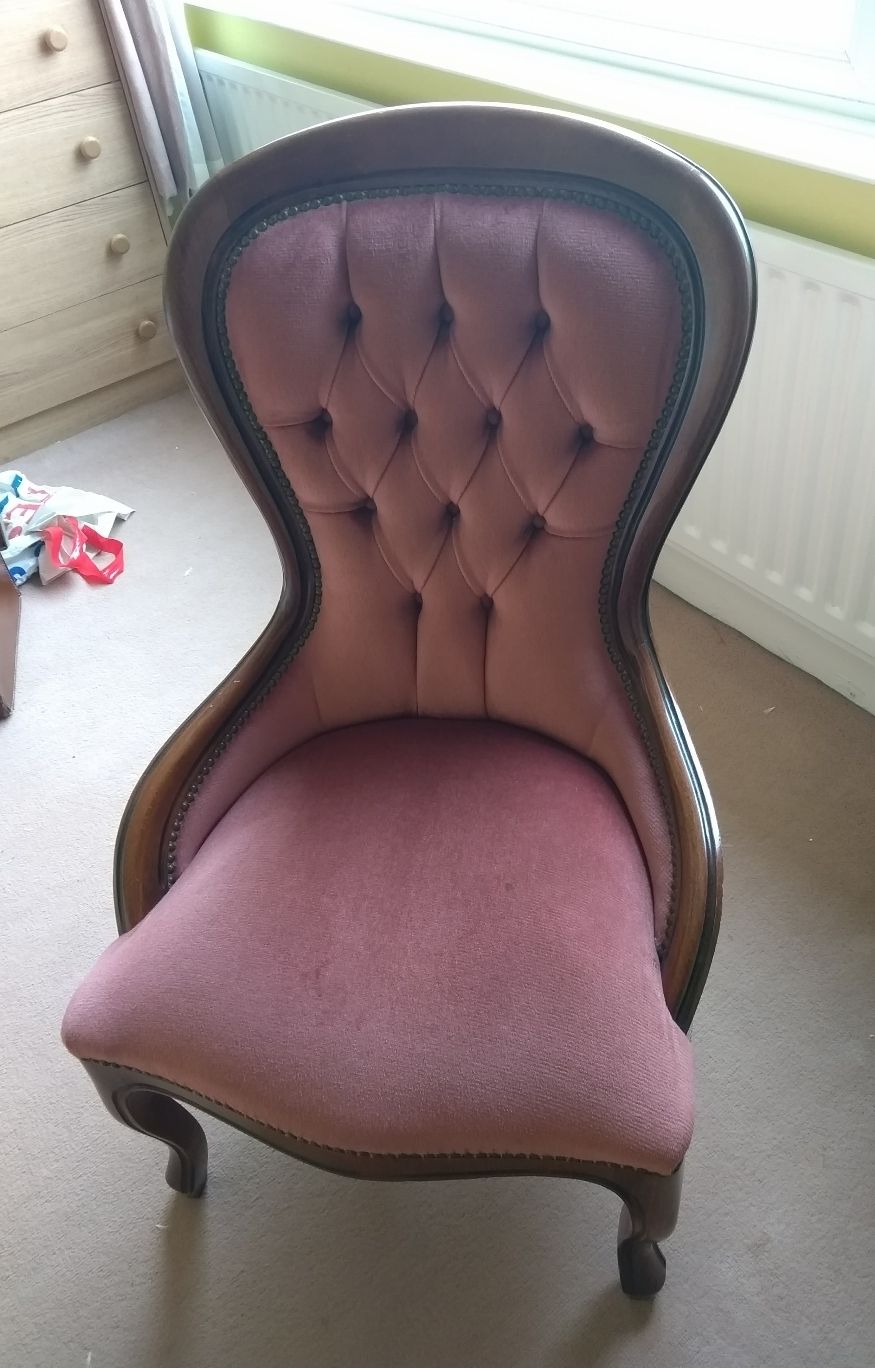 Had a fab day followed by a special delivery from Andyman Upcycling!!! A very talented chap who has created my beautiful bureau with very minimal input from me but he's nailed exactly what I wanted!!!! Excellent work & he kept me informed throughout the project & best prices around I've seen.
!!!!!!!!!!!!!!!!!!!!!!!!!!!!!!!!!!!!!!!!! would highly recommend!!!
Recommends / Reviews from Other People.
Maire Hartley recommends AndyMan UpCycling.
4 February 2019
Care and attention to detail...great workmanship ...friendly service....love my unit ...happy seeing Lynne and Andy today....thank you so much...xxx
Linda McKendrick recommends AndyMan UpCycling.
6 February 2019
Purchased a faux fur footstool today; it is gorgeous and I love it, very well made. Lovely people to deal with too. I definitely recommend this business.

Katie Florida Hilliam recommends AndyMan UpCycling.
15 March 2019
Amazing service very nice kind people my nana bought a beautiful chair for our little girl and it was delivered the same day made my little girls day thank you very much for your lovely service